How to use VESTA
Last Update:2022/01/31
Introduction
VESTA is software for visualizing crystal structures. This software is user-friendly, and can easily draw beautiful crystal structures. It can also be used to convert input files of first-principles calculation software and to visualize calculation results. Here, I will briefly describe explain how to install VESTA, how to obtain a CIF file, and how to display the crystal structure.
How to install
VESTA provides binaries for various operating systems. Download and install from the following web page.
http://jp-minerals.org/vesta/jp/
How to obtain a CIF file
Crystal structure files are distributed in the CIF file format. CIF files are available from various databases.
For example, more than 80,000 crystal structure data are registered in the inorganic material database in the NIMS material database.
http://mits.nims.go.jp/
Here, let's download the crystal structure file posted from the following web site:
https://staff.aist.go.jp/nomura-k/common/STRUC-CIF/ZrO2-25C.cif
How to display crystal structures
Start VESTA, select File → Open, select the downloaded file, and then the crystal structure of zirconia will be displayed. The figure can be rotated and enlarged/reduced with the mouse.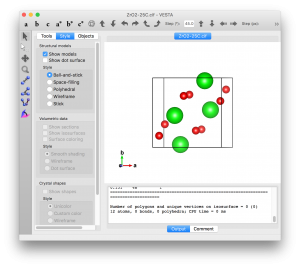 Let's make it look better. Select Edit → Bonds. Then, the following window opens.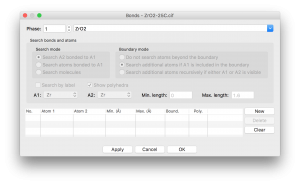 Press New button, set A2 list to O (oxygen atom), Min. Length to 1.8, Max. Length to 2.2. This indicates an interatomic bond when Zr and O are at a distance between 1.8 Å and 2.2 Å. Further, when selecting Objects → Boundary and setting x (max) to 2 and y (max) to 2 in the newly opened window, two periods of the unit cell are displayed in the x and y directions.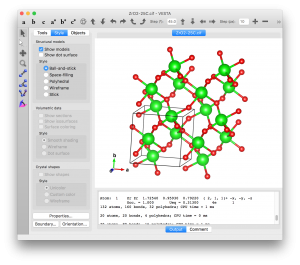 Summary
VESTA has a variety of display options. For more information, see the web below.
Manual of VESTA
http://jp-minerals.org/vesta/en/doc.html