Modeling the molecular structure with Avogadro
Last Update:2022/12/26
Introduction
Avogadro is a versatile molecular modeling and visualization tool. Windows, MacOS, and Linux binaries are available for easy installation on your PC. In this review, we show an example of using it on a Mac, but you can use it on Windows and Linux in a similar way.
Installation
Go to the Avogadro download site and download the software for your operating system. For Windows or MacOS version, just double-click the downloaded file to start the installation process.
Display of a molecular structure file
Avogadro can treat molecular structure files in a variety of formats. Here, we show how to read the molecular structure files in Example Molecules in the temporary folder created during installation on the Mac. There are several ways to open molecular structure files. You can select a file and right-click to open it as "Open With" –> "Avogadro". You can also open a file from the launched Avogadro by selecting "File" –> "Open". When the molecular structure data is read successfully, the molecular structure is immediately displayed on the screen.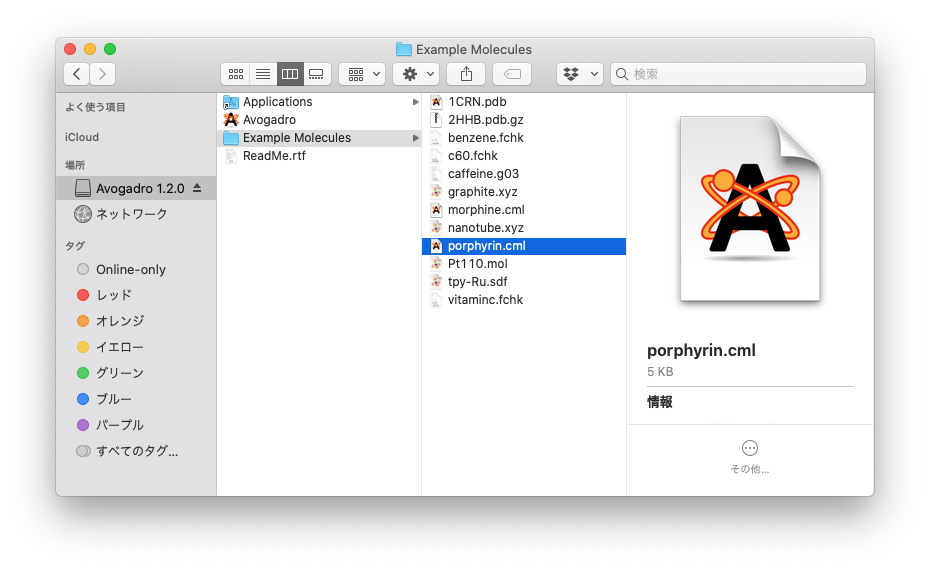 The image below shows the result when the file "porphyrin.cml" is opened from the "Example Molecules" folder. Press the upper left shuriken mark or arrow mark and move the mouse over the image of the molecule to rotate it. You can also use a mouse scroll motion to zoom in and out of the molecular image.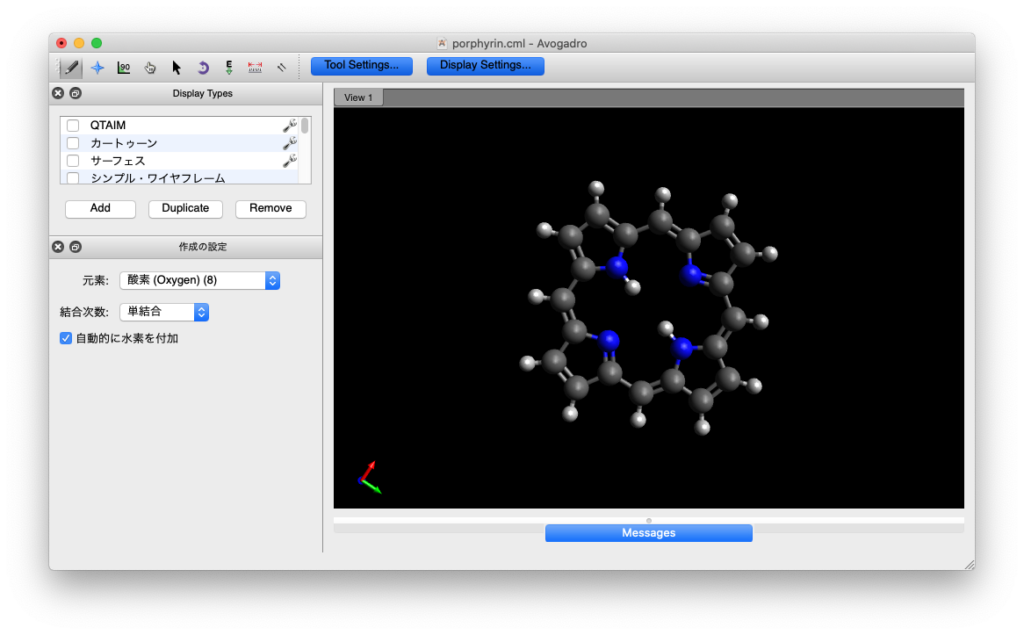 Molecular Modeling
Using Avogadro, one can easily model molecules. After opening a new window of Avogadro, you'll see a black screen. If you press the pencil mark on the top left and left-click with your mouse near the center of the black screen, you'll see the methane structure as shown below.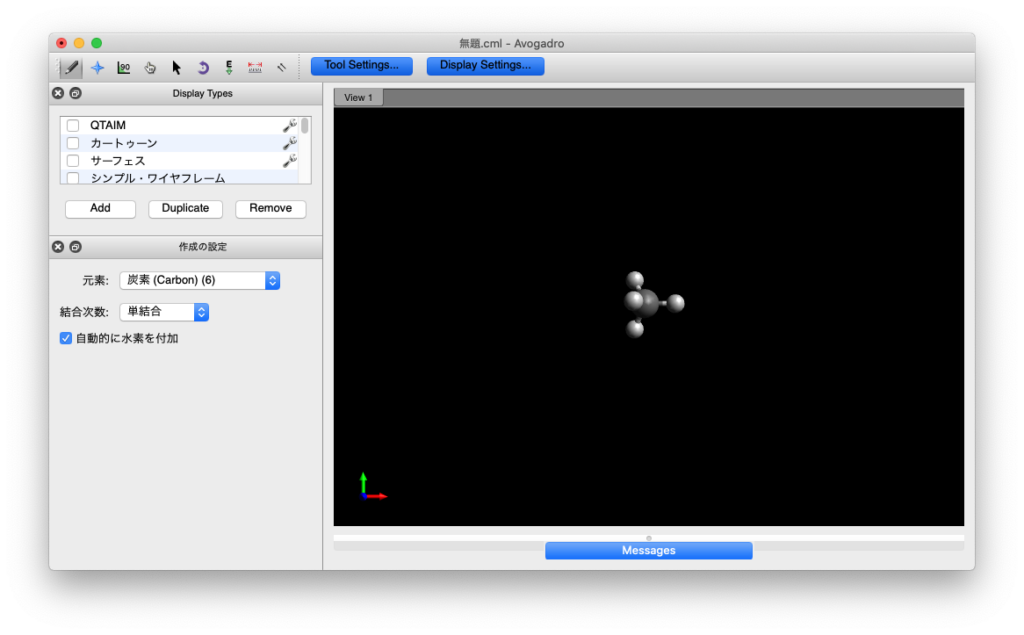 By clicking a hydrogen atom, ethane and propane can be produced as shown below.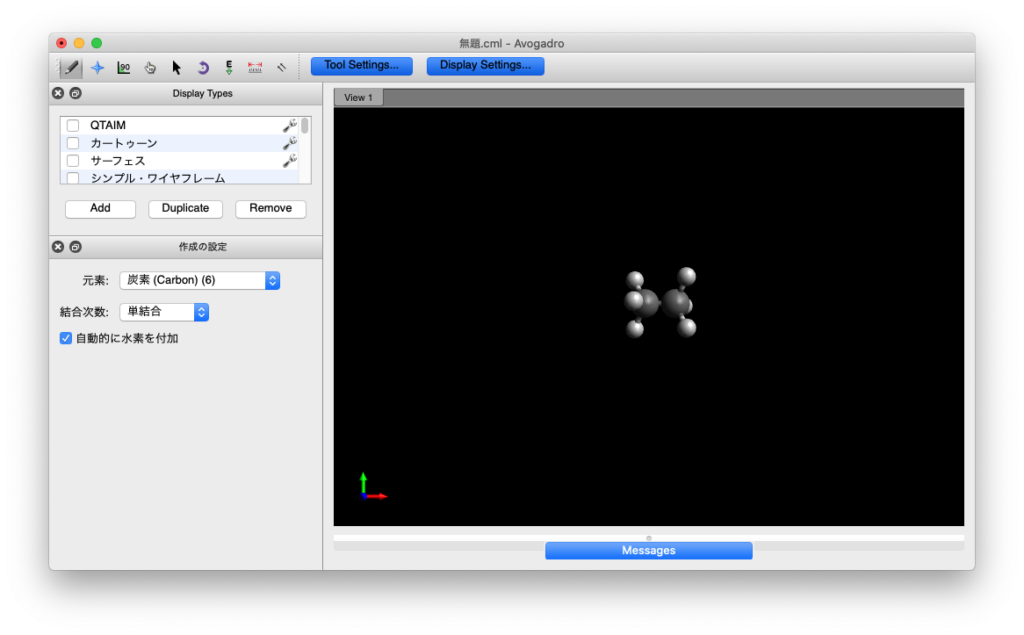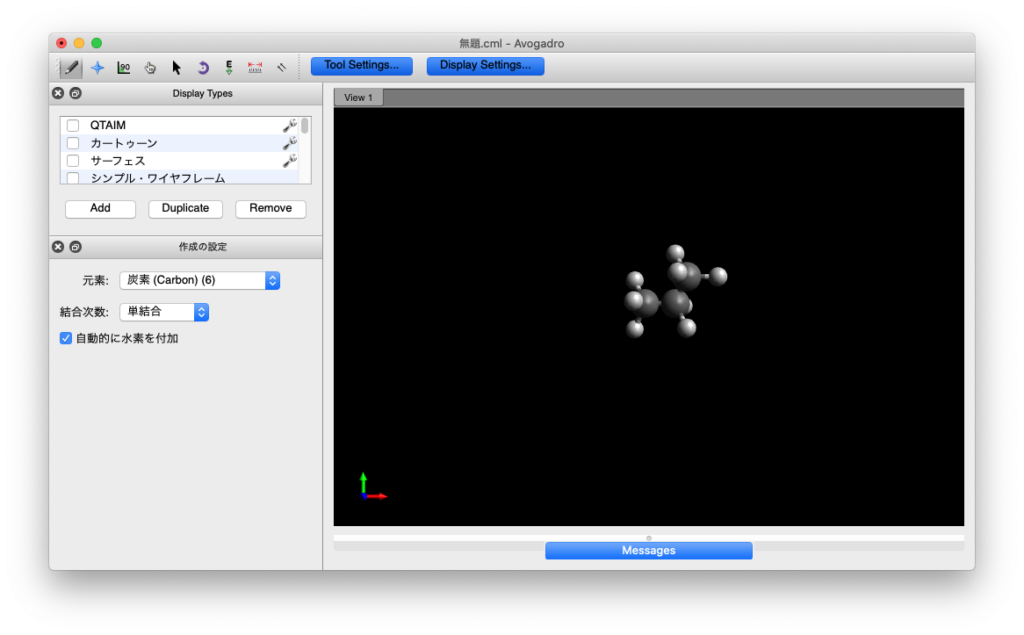 Atomic configurations (distances between atoms and angles between bonds) created in this way are not accurate. Let us perform structural optimization to get the right molecular shape. After clicking the "E" mark in the upper left, click "Start" from the settings screen to start optimization. During optimization, you can select and shake atoms after pressing the button on the upper left finger mark.
Next, click on the pencil mark in the left-top panel and change the element from pull-down into Oxygen. Then, left-clicking the mouse at the hydrogen position will replace it with the alcohol group. This creates a molecular model of propanol.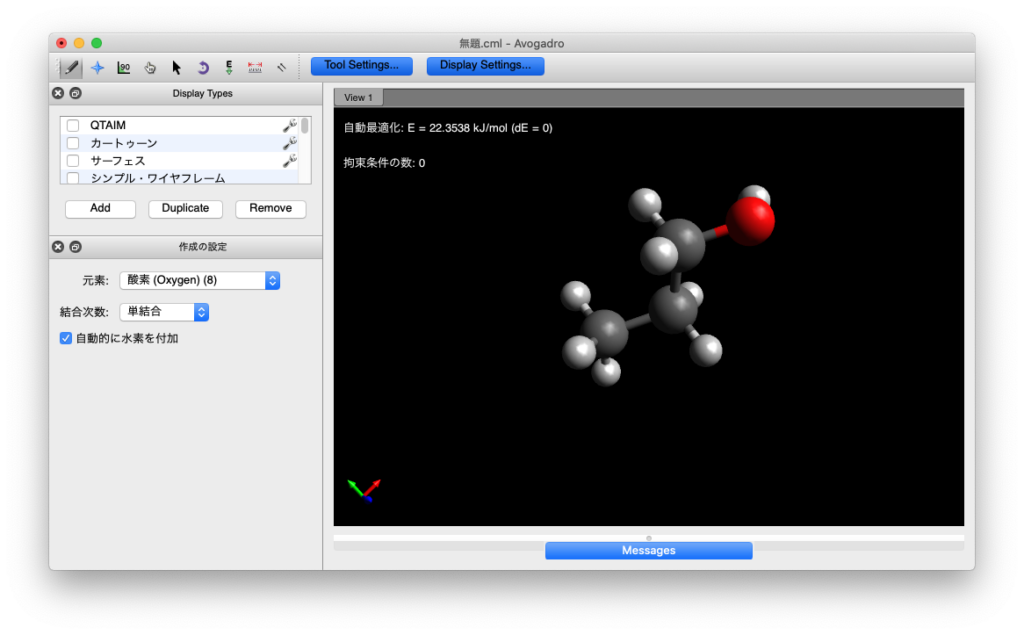 Conclusion
Avogadro can read various formats for molecular structure, so you can use it as a simple format converter. It also has various functions of linking with famous databases such as PDB and generating input files for quantum chemical calculations. It's also useful for creating molecular structure diagrams for papers and presentations, so feel free to try it out.